Photo by Dave Bunnell
Interested in a custom cave, built specifically for your application? The information below is for you.
A student explores the cave simulator at CityROCK Climbing Gym (photo by Dan O'Sullivan)
CaveSim cave simulators allow visitors to crawl through artificial cave passages to learn about wild caving and cave conservation.  As visitors crawl through the passage, they encounter artificial cave formations and cave life.  Sensors provide the user with feedback about their soft-caving skills.  If a visitor bumps into a stalactite, or gets too close to a cave painting, an electronic sensor behind the wall beeps, LEDs light up around the object, and a recorded voice teaches the user to be more careful next time.  When the visitor leaves the cave, he or she can review their score using a simple computer interface.
CaveSim LLC designs and builds cave simulators, including the artificial cave formations and electronic sensing system and software.  Our business model is flexible: we can provide everything from just the individual parts (you build the passage) to an entire turn-key system.  Our most recent project is a massive cave system in CityROCK Climbing Gym in Colorado Springs.  This cave includes a 40 foot rappel and over 500 feet of highly-realistic horizontal passage.
Our highly-realistic formations are all made without ever touching any real formations.
Artificial gypsum flowers with embedded electronic sensors made by CaveSim (left) and real gypsum flowers (right):
CaveSim replica of the Caverns of Sonora Butterfly with embedded sensors (left) and the real formation (right, prior to a terrible incident of vandalism)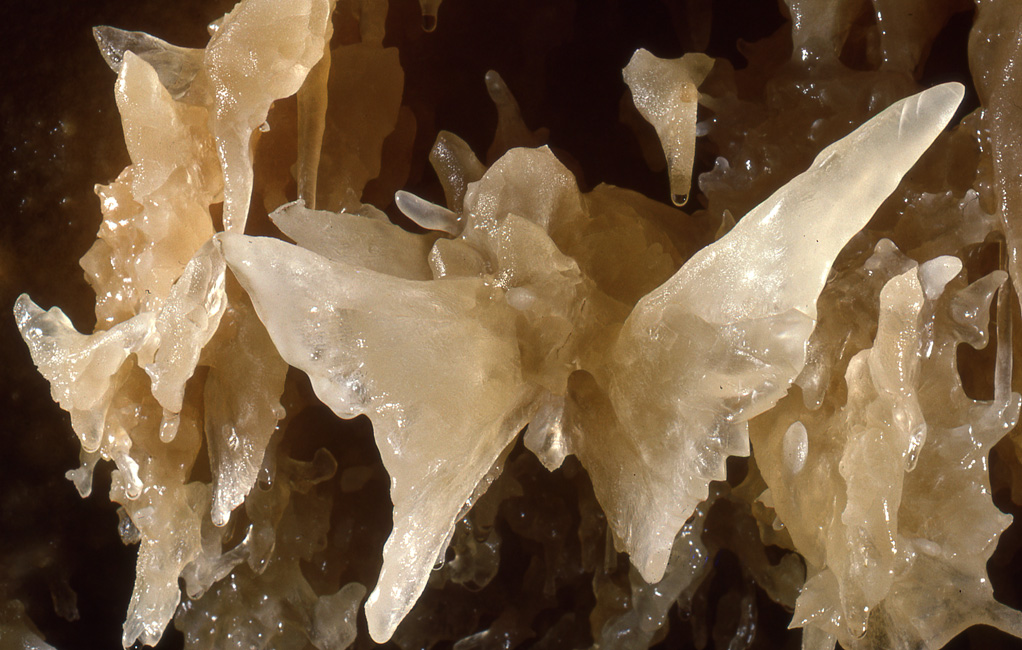 Photos of real gypsum and helictite by Peter and Ann Bosted, with permission.
Who can use CaveSim?
All ages.

Groups or one at a time

Parties, Scout groups, school classes, STEM (science, technology, engineering, and math) students and educators

Real cavers, caving competitions, search-and-rescue groups
CaveSim's mobile cave has proven extremely popular among the general public as well as among experienced cavers.  Our mobile cave simulator is used for national caving competitions.
A veteran finishes CaveSim during NSSCON 2012 in West Virginia.
Kids prepare to enter CaveSim at the 2011 Cool Science Festival in                             Colorado.
A student in CaveSim during an at-risk youth program.
Cavers prepare to compete in a challenge at the 2013 National Speleological                   Society convention in Pennsylvania.
Why your museum, visitors center or climbing gym needs a cave simulator:
Differentiate your business from your competition with a unique attraction.
Give your visitors a great physical workout while appealing to a younger generation with our high-tech computer tracking system.
Audio recordings linked to our formations provide your visitors with easy-to-understand, hands-on lessons about science and conservation.
Make your museum, park or business a destination for our-of-town visitors seeking interesting activities.
Give your facility an additional revenue stream.
Based on our discussions with management at museums, parks and businesses, one challenge many face is the need to attract younger visitors and families.  A cave simulator would benefit your facility by doing exactly that -- while cave simulators can be used by people of all ages, they are an excellent way to engage younger visitors.  Children find the electronic and computer aspects of CaveSim caves very appealing, and then discover that they also love the caving aspect. 
A high-school-aged caver from the Cochise County Cavers explores CaveSim at Cave Fest 2014 at Kartchner Caverns.
Options for building a cave simulator for your facility
Two example options are shown below, and both options would include:
Artificial cave formations, including formations modeled after real speleothems in your local caves.
Artificial cave life commonly found in your area, such as bats and crickets.
Electronic sensors to provide visitors with feedback about their soft-caving skills.
An easy-to-use graphical software interface that visitors could use to review their caving scores.
Night-vision cameras which allow staff and visitors to watch visitors as they explore the passage.
Option 1: Permanent exhibit
The highly-automated nature of our cave simulators and the robust nature of the formations and passage allow for minimal oversight.  Our highly-skilled crew can build a cave in unused space within your facility.  We have built behind climbing gym walls and under floors.
Option 2: Mobile cave simulator
We build cave simulators into enclosed trailers to enable you to reach beyond the boundaries of your facility.  Outreach with a mobile cave simulator is a great way to attract more visitors to your facility.  Our experience with mobile caves shows that many schools and festivals pay for such programs year after year.  
Screenshot of CaveSim software from our online instructions. The grey images on the right are live feeds from night vision cameras. The image in the center shows the visitor which formations they hit.  Note that the cave shown is box-like because it folds flat for transport.  Cave passage built for you would be more realistic and rounded.
About CaveSim LLC:
CaveSim LLC is based in Manitou Springs, Colorado.  CaveSim owner Dave Jackson invented the cave simulator concept, and holds U.S. Patent numbers 8,574,085 and 9,399,178, with additional patents pending.  CaveSim LLC designs and manufactures all artificial formations, sensors and other electronics in Colorado, and sub-assemblies (such as circuit boards) are made in the US whenever that option exists.  CaveSim LLC is the only company that makes cave simulators, and we have extensive experience in electronics, software, construction, wall texturing and more.  All of our staff are cavers, and we even have our own geologist!
No real cave formations are harmed or even touched in the making of CaveSim cave formations.
Our other customers:
We are building over 500 feet of cave passage at CityROCK climbing gym in Colorado Springs.  This cave is filled with formations and electronics, has a 40' rappel, and we've completed over 225' so far.
The St. Louis Zoo in St. Louis, Missouri purchased our museum-grade formations for their herpatology exhibit.
The University Of South Florida (USF) Karst Research Group purchased sensors and formations from us and built their own cave passage using a patent license.  USF uses their cave simulator for public outreach during their Engineering EXPO.  USF is a repeat customer -- they have purchased more formations and sensors to expand their cave.
The National Speleological Society (NSS) purchased formations from us to teach cavers about cave formation repair.  The NSS is a repeat customer -- they have purchased formations and also hired CaveSim for public outreach events.
Doug, a caver in California, purchased 150 formations from us to create an artificial cave.  Doug is a repeat customer who has purchased formations multiple times.
A student at USF is one happy customer as he installs our formations in the cave passage that he built.               
CaveSim artificial formations awaiting installation at a customer site. Photo by Doug Billings.
Safety:
CaveSim caves are quite safe.  Some of our safety features include:
The artificial formations easily swing out of the way when bumped.

The crystal-like formations are made of flexible materials, which bend easily.

Depending on the length and complexity of the cave passage, we can include emergency egress doors.

The electronics are low-voltage and/or current-limited.  Users are not exposed to the electronics.

Users wear protective gear, including helmets and lights. Additional protective equipment such as kneepads may be worn.

Our larger installations can be outfitted with fire sprinklers and automatic alarm systems.
Maintenance / durability:
CaveSim formations are extremely tough.  We have refined our design based on extensive field testing.  Our latest designs are virtually unbreakable.  In the event that a formation is damaged, it can be replaced quickly and easily with no tools.  Our testing indicates that it takes about 35 seconds to install a formation.  We will be happy to include a maintenance contract.
A 1/2" threaded steel rod holds formations in place, while a large spring allows the formation to move.                                
CaveSim sensors are tiny, ruggedized computers.
Next steps
We believe that our cave simulator would be the perfect addition for your facility to teach cave conservation and science.  If you would like to explore this possibility, please contact Dave Jackson:
Thank you for your interest in CaveSim products and services.