Proposal: CaveSim artificial cave at Waitomo Caves Discovery Centre
Kia Ora from Colorado, USA!  Thank you for your interest in our artificial cave formations, sensors and software.  Please consider the custom proposal that we put together for the Waitomo Caves Discovery Centre and let us know what questions and concerns you have.  We look forward to working with you.
What is a cave simulator?
CaveSim cave simulators allow visitors to crawl through artificial cave passages to learn about wild caving and cave conservation.  As visitors crawl through the passage, they encounter artificial cave formations and cave life.  Sensors provide the user with feedback about their soft-caving skills.  If a visitor bumps into a stalactite, or gets too close to a cave painting, an electronic sensor behind the wall beeps, LEDs light up around the object, and a recorded voice teaches the user to be more careful next time.  When the visitor leaves the cave, he or she can review their score using a simple computer interface.
CaveSim LLC designs and builds cave simulators.  We have had nearly 4000 people crawl through our mobile cave.
Artificial formations made by CaveSim:
Gypsum flowers with embedded electronic sensors              CaveSim replica of the Caverns of Sonora Butterfly
The artificial formations above are based on the following real formations: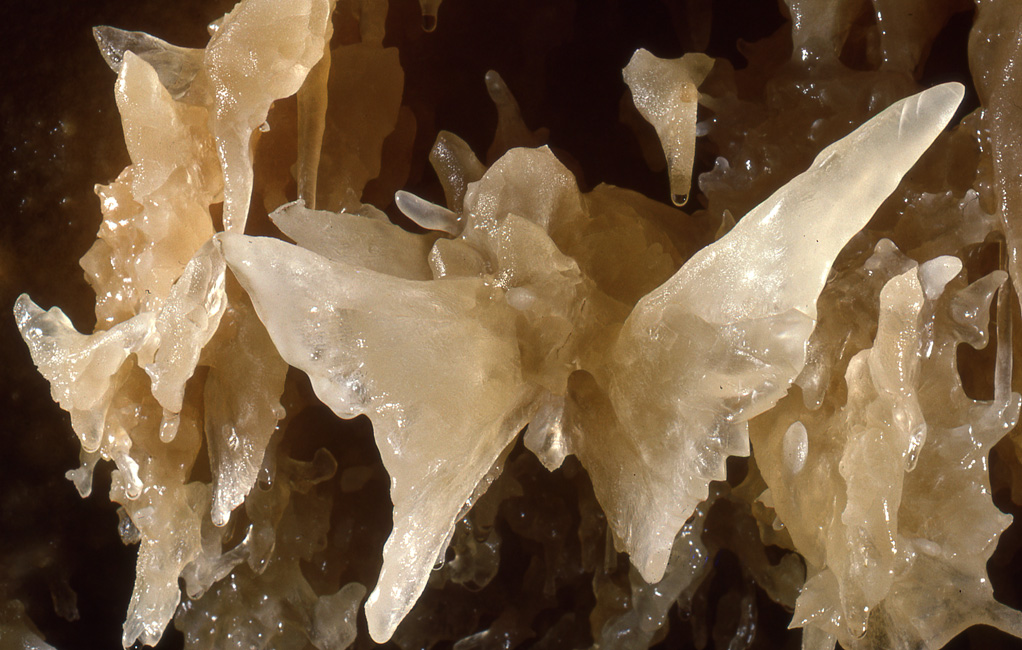 Photos by Peter and Ann Bosted, with permission.
Who can use CaveSim?
All ages.

Groups or one at a time

Parties, Scout groups, school classes, STEM (science, technology, engineering, and math) students and educators

Real cavers, caving competitions
CaveSim's mobile cave has proven extremely popular among the general public as well as among experienced cavers.  Our mobile cave simulator is used for national caving competitions.
A veteran finishes CaveSim during NSSCON 2012 in West Virginia.         Kids prepare to enter CaveSim at the 2011 Cool Science Festival in                                                                                                                    Colorado. Photo waiver on file.
A student in CaveSim during an at-risk youth program.           Cavers prepare to compete in a challenge at the 2013 National Speleological   Photo waiver on file.                                                                   Society convention in Pennsylvania.
Why Waitomo Caves Discovery Centre needs a cave simulator:
The Cave Crawl at the Discovery Centre is very popular with children, and always has a line of people waiting to go through, according to Richy.  The Cave Crawl is about 30 years old, and understandably shows some signs of wear (based on the photos we've seen online).  Updating the Cave Crawl by adding CaveSim speleothems and electronic sensors has these benefits:
A high-school-aged caver from the Cochise County Cavers explores CaveSim at Cave Fest 2014 at Kartchner Caverns. Photo waiver on file.
Proposal for collaboration between CaveSim LLC and Waitomo Caves Discovery Centre
We are excited about the opportunity to collaborate with the Waitomo Caves Discovery Centre staff on creating an updated version of the Cave Crawl.  Here is an outline of how the collaboration could work:
CaveSim LLC would build the artificial formations, the electronic sensors, the electronic interface hardware, and the software.  These would be shipped to Waitomo to be installed by your staff.  Your order could include:

Extremely durable solid plastic cave formations with steel mounting hardware.
Electronic sensors to provide visitors with feedback about their soft-caving skills.
An easy-to-use graphical software interface that visitors could use to review their caving scores.
Night-vision cameras which allow staff and visitors to watch visitors as they explore the passage.
Custom features that are unique to Waitomo Caves, such as artificial glow worms complete with LEDs and a recorded voice to teach visitors about the worms if they get too close.

We would provide detailed online directions for product installation.  Other customers have successfully used our instructions to install formations and electronics.  One customer successfully installed their order in just a few hours under a tight deadline.

The formations and electronics could be installed into a new Cave Crawl, or the existing crawl could be modified to include the new items.  

If you would like a new Cave Crawl, we would provide detailed plans for a space-efficient cave passage.  We would also provide detailed explanations of construction techniques, including several options for finishing materials.
About CaveSim LLC:
CaveSim LLC is based in Manitou Springs, Colorado, USA.  CaveSim owner Dave Jackson invented the cave simulator concept, and holds U.S. Patent number 8,574,085 with additional patents pending.  CaveSim LLC designs and manufactures all artificial formations, sensors and other electronics in Colorado, and sub-assemblies (such as circuit boards) are made in the US whenever that option exists.  CaveSim LLC is the only company that makes cave simulators, and we have extensive experience in electronics, software, construction, wall texturing and more.  All of our staff are cavers, and we even have our own geologist!
No real cave formations are harmed or even touched in the making of CaveSim cave formations.
Our other customers:
We are building over 400 feet of cave passage at CityROCK climbing gym in Colorado Springs.  This cave will be filled with formations and electronics.
The University Of South Florida (USF) Karst Research Group purchased sensors and formations from us and built their own cave passage using a patent license.  USF uses their cave simulator for public outreach during their Engineering EXPO.  USF is a repeat customer -- they have purchased more formations and sensors to expand their cave.
The National Speleological Society (NSS) purchased formations from us to teach cavers about cave formation repair.  The NSS is a repeat customer -- they have purchased formations and also hired CaveSim for public outreach events.
Doug, a caver in California, purchased 150 formations from us to create an artificial cave.  Doug is a repeat customer who has purchased formations multiple times.
A student at USF is one happy customer as he installs our                     CaveSim artificial formations awaiting installation at a customer site. formations in the cave passage that he built.
Cost:
Depending on the options chosen, your order could range in price (USD) from $834 (for formations without sensors; customs, shipping and design help extra) to $9255 (includes all electronics, software, and design help; plus customs and shipping are extra)
We have provided a detailed quote to Richy which includes various options and includes customs charges and shipping.  The project cost can be spread over multiple years by adding more formations and sensors in subsequent years.
We are happy to work with you to keep the cost down.  We would be happy to add or remove items from the quote as you see fit.
Safety:
CaveSim caves are quite safe.  Some of our safety features include:
The artificial formations easily swing out of the way when bumped.

The crystal-like formations are made of flexible materials, which bend easily.

Depending on the length and complexity of the cave passage, we can include emergency egress doors.

The electronics are low-voltage and/or current-limited.  Users are not exposed to the electronics.

Users can wear protective gear, including helmets and lights if desired. Additional protective equipment such as kneepads may be worn.
Maintenance / durability:
CaveSim formations are extremely tough.  We have refined our design based on extensive field testing.  Our latest designs are virtually unbreakable.  In the event that a formation is damaged, it can be replaced quickly and easily with no tools.  Our testing indicates that it takes about 35 seconds to install a formation.  We will be happy to include a maintenance contract.
A 1/2" threaded steel rod holds formations in place,                  CaveSim sensors are tiny, ruggedized computers.                                                   while a large spring allows the formation to move
Next steps
We believe that our artificial cave formations and electronics would be the perfect addition for Waitomo Caves Discovery Centre to teach cave conservation and science.  If you would like to continue to explore this project, please contact Dave Jackson with any questions or concerns:
jacksondmit@cavesim.com      cell: 914 330 7824
Possible next steps that you can take include:
Add or remove items from the quote
Provide us with feedback about your budget for such a project so that we can further scope the project.
We will be happy to set up a phone meeting to discuss this project further.
Thank you for considering our cave simulators for Waitomo Caves Discovery Centre.